Our team loves outdoor summer events, and since COVID has ended we've seen so many creative and fun ideas from clients who were just So. Excited. To celebrate again! Some of our favorite outdoor décor ideas have included:
Open house: your graduate was a dancer as a little girl? Display her past dance outfits on mannequins for an interactive look at her achievements as a dancer!
Backyard wedding: suspend pretty white parasols from overhead tree limbs with wide ribbon or heavy gauge fishing line
Night-time backyard party: hang battery operated Christmas lights in vertical strings from overhead tree limbs to light up your evening
Balloon décor: the new trend is to create links of balloons! These clever inventions have blowup on both ends, so each end of the balloon can be tied to other balloons to create strands. White silver balloons link together to look like giant pearls, gold strands can be suspended over a red carpet for a gala or fundraiser, multi-colored balloons can be strung together over a school carnival area or kids circus themed birthday party!
Tented events: suspend lampshades in different colors and different heights from the perimeter of your big white tent, and strands of colored silk flowers suspended from fishing line inside the tent, for an eclectic and colorful outdoor décor scheme
(photo credit to Picture A Moment in Time)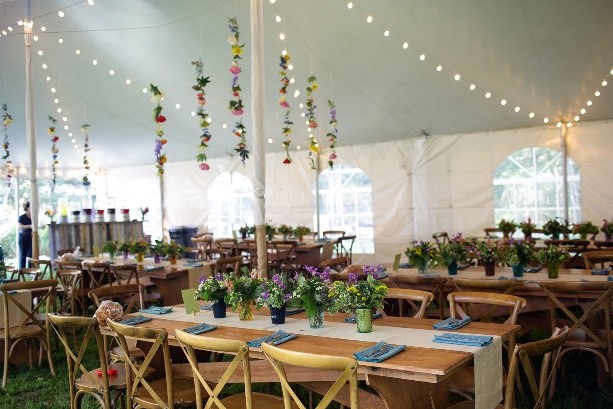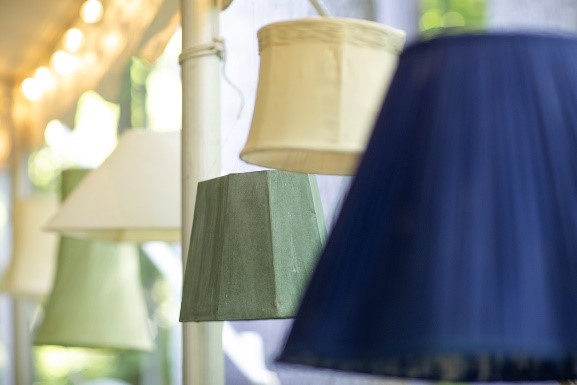 Happy Summer Party Planning!